Federal employees mortgage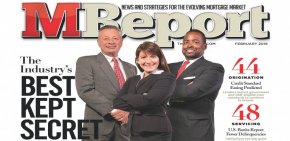 Katie Miller, vice president of mortgage lending, with Kevin Parker, assistant vice president of field mortgage, and Paul Garcia, one of the credit union's top loan officers, opened up to MReport journalist Xhevrije West and gave her a true inside look at what makes mortgage tick at Navy Federal. Here are some excerpts from the article:
Finding products that meet members' unique financial needs:
Miller: "This isn't an organization where somebody steps off the street to get a mortgage. Like with me, our members have been members for decades and they have a history with us, and it's our mission to serve them and offer the types of products that they want."
"It's really that specialized, customized service that separates us from everybody else, and separates credit unions in general. We all have the mission to serve the members, not to make a profit." – Katie Miller vice president of mortgage lending
Navy Federal is no stranger to matching mortgages that fit members' budgets. In addition to the VA loan, the credit union has several 100 percent financing options, including HomeBuyers Choice, Military Choice and the 5/5 ARM.
How Navy Federal puts member service first:
Parker: "Most financial institutions would tell you that customer service or member service will be their main priority or one of their main priorities, but at Navy Federal member service is ingrained in our culture, decision making and critical thinking process. Everything we do starts with 'through the eyes of the member'."
"Our members are not just a number or an application, they are members. It's not just a one-time loan with us; it's part of your relationship with the credit union. Our staff is really committed to that and knows that." – Katie Miller vice president of mortgage lending
On first-time homebuyers:
"We understand there is a lot of stress from their point of view and we try to relieve that stress as much as possible by being their confidante and holding their hands and making them feel like they have a partner throughout the whole process." – Paul Garcia assistant vice president of field mortgage
Share this article
Related Posts