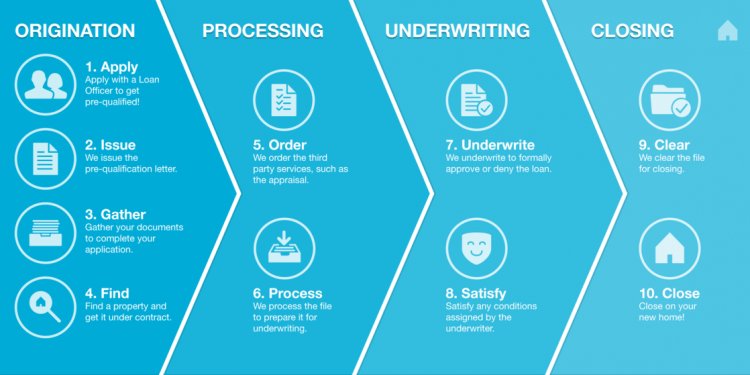 Loan Processing

You've made it through the mortgage loan application – whew! Now your application works its way through the loan process on its way to the closing table.
During this step, your lender's loan processing team will double-check your file to make sure it is complete and accurate. This means collecting and verifying all the information you've supplied, ordering credit reports, and arranging for a home appraisal. Ultimately, all of this data will be used to determine your loan approval status.
With that in mind, let's take a closer look at why loan processors review and request certain information.
Processing – Giving Your Mortgage Application Serious Scrutiny
Please note: Slight variations in this process may occur as lenders may delegate responsibilities of loan originators, loan processors, and underwriters a bit differently.
Collecting Proof of Employment, Assets, Debt, Income, and Homeowners Insurance
Your loan processor's main job is to verify all of the information that you have provided on your mortgage application. This means checking your employment status (W-2s and pay stubs), assets (checking and savings accounts), and outstanding debts (car and student loans).
Loan processors will also pay particular attention to your income. Why is this? Well, lenders don't want your total monthly mortgage payments – principal, interest, property taxes, and homeowners insurance – to swallow up your total, monthly gross income. Remember, lenders want to be certain that you will be able to comfortably manage all of your current obligations and your new monthly mortgage payments.
In addition, loan processors will make sure you have a homeowners insurance policy. This insurance will protect you and your lender from suffering a financial catastrophe in the case of a fire, flood, etc.
Ordering Appraisals, Credit Reports, and Payoff Information
A good home appraisal is one of the most important components of loan processing. An appraisal is an expert's opinion of your home's current market value. It will determine if a lender will be lending out more money than what a home is worth. And, it will ultimately affect just how much a bank is willing to lend.
Loan processors will also order a credit report. This document will report how you have handled and managed repaying past bills (car loans, student loans, and home equity lines of credit). But most important, it will enable the lender to predict your ability to make those future mortgage payments on time and in full.
Lastly, if you're refinancing, your loan processor will request your payoff information (how much you still owe on your current home) from your present lender.
To see what goes into an appraisal or learn more about how to sustain good credit during the loan process, check out our blog posts, Top 10 Credit Score Mistakes When Applying for a Mortgage and Understanding the Home Appraisal Process.
What's Next?
Once the loan processor finishes polishing your application, your file will be sent over to the underwriting team. Here, an underwriter will double check your financial profile one last time to make sure all the necessary documentation is present and accurate. Underwriters will also seek to clarify any inconsistencies or gaps in your application, by requesting letters of explanations (a document in which a borrower can explain why their income decreased or credit score fell). Then, the underwriter will decide to approve or deny your loan request.
If approved, you'll be on to the final step and begin coordinating schedules to sign all the paperwork and wrap up the closing.
Quick Tips
To speed up the process, make sure you provide your loan processor with all the necessary documentation early on and respond quickly to any requests. And remember - stay in touch with your lender. Communication is the key to making the loan process move along quickly and smoothly.
Share this article
FAQ
What happens when the Federal Reserve buys mortgage-backed securities? - Quora
How difficult is it to buy mortgage backed securities?
Related Posts